THANK YOU FOR YOUR INTEREST IN WORKING WITH STREETLIGHT UK. THIS IS AN EXCITING TIME OF GROWTH FOR US AS A CHARITY AND WE LOVE FINDING PEOPLE WHO SHARE OUR PASSION AND VISION.
Streetlight UK is a frontline specialist support service, specifically focused on providing women with tangible and material pathways out of lifestyle of prostitution and violence and have developed its specialism and understanding of women involved in prostitution across London, Surrey and Sussex since 2012.
Would you like to join a close-knit, dedicated and passionate team of women working together to end sexual violence and exploitation?
  WOMEN'S SUPPORT WORKER – MEDWAY
APPLY NOW
ROLE: Women's Support Worker
LOCATION: London Bridge Office 1 Day a week and 2-3 days across Medway. 
HOURS: 28 hours per week (includes 2hrs weekly nighttime outreach)
SALARY:  £24,024 – £27,300 (FTE)
REQUIREMENTS:  A full UK Driving License.
SCOPE OF THE JOB
Care co-ordination of women with complex needs who want support, or to exit street-based

or off-street prostitution

.

 

Advocacy and referral to Multi-Agency Meetings,

which can include

the Pan London

PEAG

Forum, Medway VAWAG Forum, along with other support services across Medway.

Development and Delivery of the Medway weekly night time outreach to women in on-street prostitution. Ensuring smooth delivery of the service and continuity between the outreach and daytime support service. 

Delivering day-time support and

follow up

to service users and managing a personal

case-load

of se

rvice users

.
Effectively monitoring service user activities, preparing reports and ensuring funder's targets are met 

Supporting our Police partners on live operations across our service

in Medway

, ensuring

the safety of women and participating in police welfare checks on properties with the aim of supporting and ensuring

the safety of any women who may be trafficked, coerced or controlled. 

Representing the organization at specified events and networks locally.

Participation in Streetlight UK annual fundraising and awareness campaign.

 

Contributing to the overall

service user

support strategy of Streetl

ight UK as directed by the

Operations Manager

.

Supporting in the p

reparing

of

research and reports for partners,

funders and other stakeholders

.

 
DUTIES AND KEY RESPONSIBILITIES OF WOMEN'S SUPPORT WORKER:
Work in a flexible, woman-centered, trauma informed and strengths-based approach;

recognising

the woman as an expert of her own experience

. 

Support women to build their confidence and self-esteem, enabling them to develop strategies to put control, direction and purpose into their lives within a supported environment.

Complete assessments with women to ensure that structured support and care plans are in place and are regularly reviewed, with clear goals and objectives that are client-led and agreed with women.

To provide intensive

personalised

support with a bespoke, holistic and integrated service to women encompassing a range of risk, health, social and relationship needs. 

Support women involved in prostitution to overcome the barriers they face in exiting e.g., mental health, housing, problematic substance use, homelessness, poverty, domestic abuse, sexual violence, the criminal justice system; and to make positive steps forward with their lives. 

 

Commit to taking a multi-agency

and team

approach to women's support. Identify and develop strong working partnerships and links across Medway's

 voluntary and statutory services to improve options for service users. 

Enable women to access other support services by building good working links and ensure women are getting the right support. 

Take into account

the spiritual, religious and cultural needs of women. 

 

Use a range of StreetlightUK qualitative and quantitative tools and systems to monitor women's journey of progress. 

Complete all back office administrative tasks in relation to the role in a timely and accurate manner on StreetlightUK's systems. 

Conduct online outreach sessions, as directed by the Operations Manager,

to contact women and introduce them to Streetlight UK's services and to offer support.

 
GENUINE OCCUPATIONAL REQUIREMENT (GOR)    
Due to the history, context and nature of this role, this post is restricted to female applicants only under Schedule 9 of the Equality Act 2010.
CONTRACT: 18 – month contract, with extension subject to funding.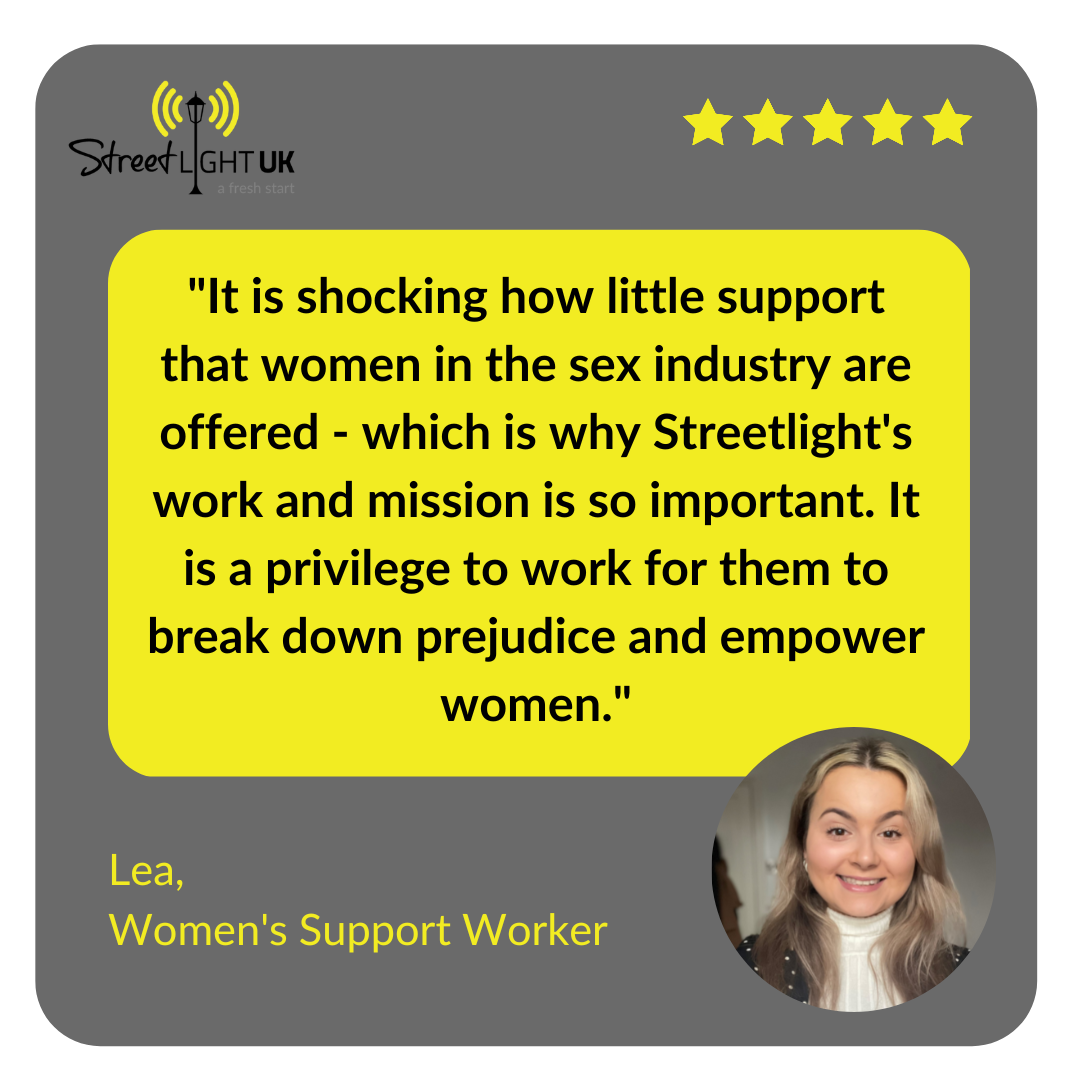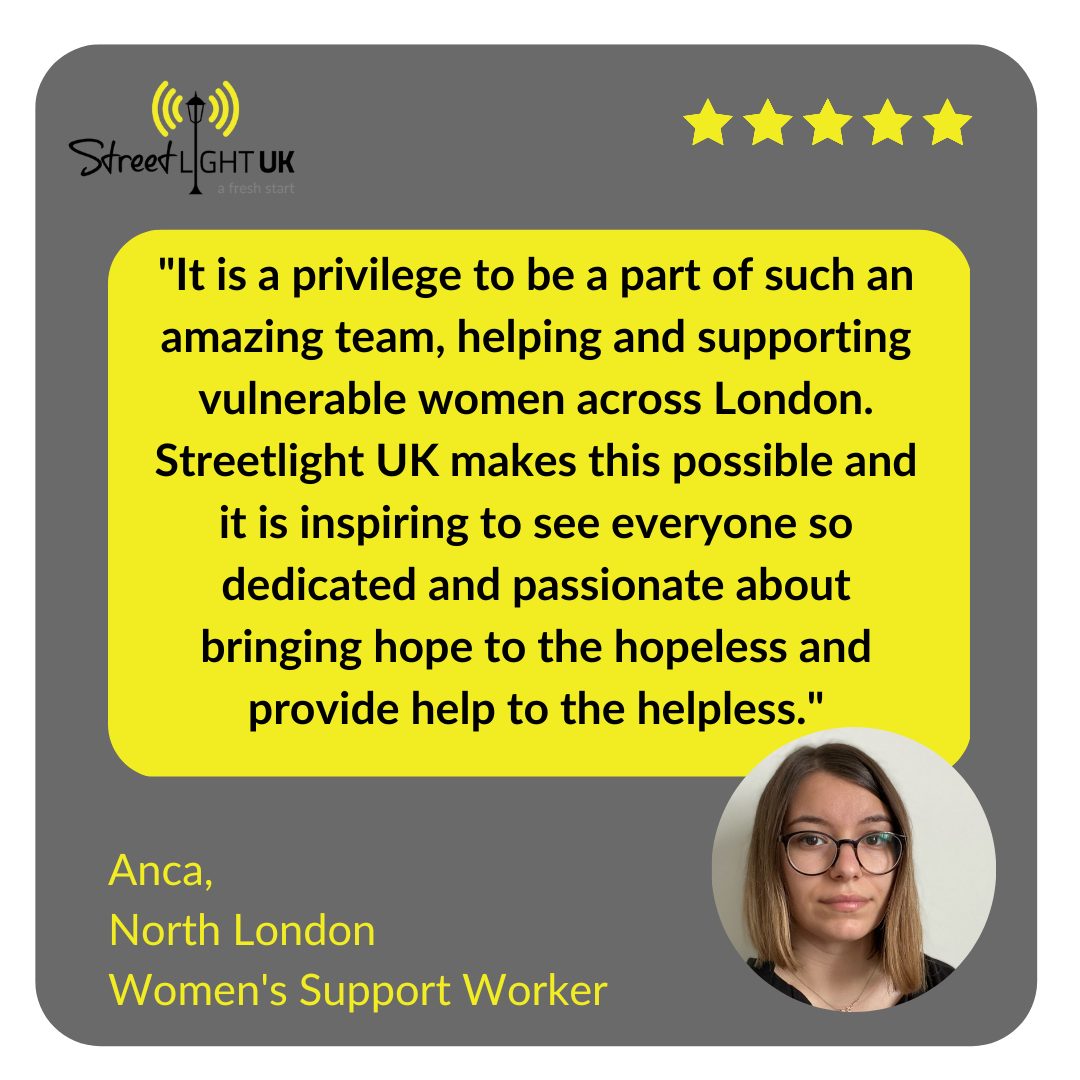 THANK YOU FOR YOUR INTEREST IN WORKING WITH STREETLIGHT UK. THIS IS AN EXCITING TIME OF GROWTH FOR US AS A CHARITY AND WE LOVE FINDING PEOPLE WHO SHARE OUR PASSION AND VISION.